See Account Balance, In-play and On-hold Amounts. Add Funds. Access "My Account" where you can view Bet and Transaction Histories. Change account or security information. Reset Confirmations and dashboard defaults. Read system messages.
View Current Races. Minutes to Post. Pool amounts. Choose to Watch a live video stream (where available).
See today's Carryovers and watch the Top Pools as they accumulate throughout the racing day.
View Today's Race Results, Select Pools and Runners, View Race Cards, View Current Odds & Probables and Purchase & Download Handicapping Information.
FAQs
How do I find results of races from previous days?
How do I view Results and Replays?
How do I watch replays of Today's races?
Results and Replays of Races that occurred Today
For races you wagered on
To quickly navigate to the results of races you wagered on today, click on a race in the Completed tab on the Bets Widget. The results for that race will appear on the Bet Pad. Video is available if you see

.
For races you did not wager on
Using the Bet Pad, choose the track name then race number from the race selector. The results for that race will appear on the Bet Pad. Replay is available if you see

.
Results and Replays of Past Races
Select Results & Replays from the website's navigation menu. Results of yesterday's races will display by default. You can choose another date and using the calendar. Replay is available if you see

within the results display.


How do I change the track that appears on the Bet Pad?
To change the race or track on the Bet Pad use drop down track list. Or Make your race selection in the Events or Featured Pools widgets.
How do I purchase Handicapping Products?
When handicapping products are available they will be shown in the Store tab and under the track information on the Bet Pad.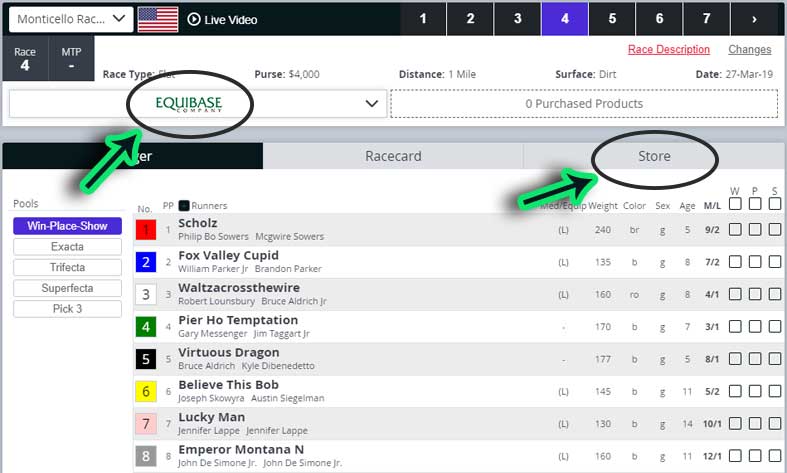 Choose the product you'd like to purchase, complete the purchase then click to activate or download it.
Funds will be deducted from your account balance. If you have purchased products for the track displayed in the Bet Pad, you will see a count in the Purchased Products tab on the Bet Pad indicating how many products were purchased for the selected track.
Where can I view Odds and Probables for a race?
You can view current odds and probables for a specific race by selecting the Oddsboard tab on the Bet Pad. Odds information is updated regularly and is generally only available for current races. The latest update time is also displayed.
Where can I see a wager I just placed?
You will find all of Today's active wagers in the Bets Widget's Active tab. If it is not there, check the Completed tab. You can also view your complete Bet History from in My Account.
How can I view or print wager tickets?
You can view and print your tickets by choosing

Ticket on the wager from the Active or Completed tabs in the Bets Widget. If you don't see a Ticket option, click the wager and the option will appear as a "View Ticket" link.
You can also view or print your tickets from your Bet History in My Account. Just click on the wager you want to view.
How do I know which race I am currently wagering on?
The race you are currently choosing pool and runners for is shown across the top of the Bet Pad. Track appears in the drop down menu. Race number appears under the track name and is a highlighted number across the top. The race number also appears under the Track drop down menu along with minutes to post.

I tried to select a runner but there are lines through the selection boxes. What happened?
The race is Off and wagers have been closed. Choose another race.
Or
The runner was scratched before the race start.
I am filtering in the Events widget by pool type. I do not see a track I expected to see.
The Events widget only displays the CURRENT race on all tracks. Perhaps the race with your desired pool is not the current race. Reset your filters and choose the track, then browse the races to locate the pool you are looking for.
For example: There are eight races today at Saratoga with Races 2 and 6 having Pick Three pools available. If you filter races by Pick 3 pools, Saratoga will only display if Race 2 or Race 6 is the current race.
NOTE: When filters are set, the listed items will update automatically as races advance.
Where did my Bet Details widget go?
The Bet Details box may be in one of two locations:
It may be below the Bet Pad.
Or
It may be above the Bets Widget.
If you want to toggle the location between the two click the selector
.
On mobile devices and some tablets all widgets may be in a single column. Try scrolling down.
How do I change the wager amounts in Bet Details?
To customize wager amounts according to your preferences, click on the

in the Bet Details widget then input different amounts in the boxes. The left most valid amount will be selected by default when making new wagers for the wager type you changed.
You may only see the Bet Details header

when viewing the Win-Place-Show pool if you have no runners selected.
How do I change the default wager amount when customizing my wager amounts?
Make sure the amount you want to appear as the default wager amount in the Bet Details is the left most value.
How do I cancel a wager?*
You can cancel queued and active wagers from the Queued or Active Bets Widget or from the Bet Pad. Click on the wager you want to cancel then click the link or button to remove it. Funds will be refunded to your account balance.
*Wager cancellation may be restricted by the pool host and therefore you may not see this option in all cases.
Why is a queued wager I removed still shown in the Queued list?
Give the system a moment to update.
I dismissed my wager confirmations. How do I turn them back on?
To reset your wager confirmations, go to My Account then Account & Security Info. Scroll down to User Preferences.
When I try to view Results & Replays I don't see the results.
The interface remembers how you used it the last time you visited. Check to make sure you didn't choose "Hide Results".
How do I view my bet history?
You can review your bet history in My Account under Bet History.
Is there a way I can download a list of my wagers, or account transactions?
Yes. To download your wagering history, go to My Account then choose Bet History. Download is available only when using the Date Range tab.
A race is over. Why do I still see my wagers appear as Active?
Races move to Completed once the official results have been posted. Perhaps your wager involved multiple races or the official results are not yet available.
When trying to view results from races from previous days the date is not changing. Why?
After you select a date from the calendar you must click OK in the calendar control.
How do I withdraw from my account?
You will find withdrawal options available by visiting My Account then Withdraw Funds.
How do I watch video?
Races with video available display . Click the icon to choose video player position.
Why can't I hear video sound?
By default, sound is muted on all video streams. Toggle sound On/Off by clicking on the sound icon in the video screen. If you do not see the video controls, move your cursor over the video to get them to appear.
How do I pop-out a video to watch video in a new screen? Or expand video playback?
Use the pop-out icon in the video window. You can drag the window to any size you would like. You can also select the full screen option in the player.
When I chose a video player for my video the video doesn't load.
If you popped out your video player for that position previously, the video window may be behind your current screen.
I tried to play the video and it didn't work.
Check that your browser allows pop-ups and does not have a pop-up blocker enabled.
Or
Enable Flash Player by clicking the video window when you receive a message about Flash.
Or
In Firefox, allow Adobe Flash to run on the site by clicking Allow when you receive the alert.
NOTE: Due to each browser's unique settings, Google is your best bet to resolve pop up blocker issues.
I enabled Flash Player but my video still won't play.
Try selecting the video button again for the race you wanted to play.
Why is a replay not available for a race I just watched live?
It usually takes roughly 15 minutes for replays to be available for viewing.
I messed up my dashboard widgets. Can I just reset them to the defaults?
Yes. You can reset the dashboard by choosing Account & Security Info in My Account. Scroll down to the User Preference section.
Why can't I get to all the widgets when I'm on a phone (or tablet)?
Widgets are stacked in a single column on mobile devices and some tablets. If you scroll within a widget, the information in that widget will scroll. To scroll the page, touch outside of the borders of widgets while scrolling or the areas in between them.
Why can't I sort Next Off events?
Next Off events are always sorted by minutes to post. They are not sortable.
I can't find a track that was previously listed in Events or Next off. Where is it?
There are two possibilities that you won't find a previously listed track in Events or Next Off:
You may have filtered your Events lists to only include favorites, specific event types or a specific pool. Reset your filters from the drop down menus to view all available tracks.
Or
The entire card is complete for today. Only cards with remaining events appear in the Events widget.
To see results from a completed card, select the track from the drop down menu in the Bet Pad.
I thought I made a track a favorite but it doesn't display in the list when I filter Events or Next Off.
If a favorite track is not showing up in the Events widget as a favorite, you may have accidentally clicked the favorite icon to remove it. View the events with no filtering and remark it as a favorite.
Or
The card for today may be complete. Check the drop down track list in the Bet Pad.
My account balance disappeared from the dashboard. How do I get it back?
Click the chevron

in the Account Info widget, next to Add Funds. On a tablet or mobile device, click the Menu to see your account balance.
Why do you need my social security number (SSN)?
We may use your social security number, or SSN for short, to verify and protect your identity. We also report winnings and withhold taxes as required by various government agencies. We do not sell or share your information with anyone.
I had a message that I deleted. Can I get it back?
Yes. Deleted messages are generally kept for 30 days. If you see the message in the trash, you can recover it. Select the
in the upper right to get a message that you deleted to show up in your messages tab again.